News from The Pres
Oct. 2020:
Til jer som kigger forbi, som blev der endelig en opdatering med lidt IPA og Pale Ale samt vores darling af Doppelbock.
GB: Finally an up date with IPA and Pale Ale and our darling amongst Doppelbock. Thanks for visiting our humble web page and enjoy the beeer with respekt and dedication.

Fra venstre mod højre /From left to right: 1. . Ayinger Celebrator Doppelbock, 2. Anarkist New England IPA, 3. Ratsherrn Pale Ale. 4. Ny Carnegie Bryggeriet 100 W IPA. 5. Poppel Bryggeri West Coast IPA og 6. Gotlands Bryggeri Sleepy Bulldog Pale Ale.


1. DK: Fantastisk klassisk Doppelbock. Klare malt toner, og kaffe toner næsten sort i sin fremtræden men blød og med brændt karamel og uden alkoholisk varme i slutningen. Verdensklasse. GB: Dominant malty taste, almost black, mild fullness, sweet and malty with coffee tones and no alcohol warmth. World Class beer !.

2. DK: :Frugttoner af grape, uklar fremtræden og lidt tør mineralsk smag og medium bitterhed. GB: Fruity aroma, Hazy golden appearance and medium bitterness with mineral under tones.

3. DK: Mørk gylden pale ale, forfriskende og humlet eftersmag af de 3 humlesorter Cascade, Amarillo og Chinook. GB: Dark golden color, solid head refreshing and a hoppy aftertaste from the Chinook, Cascade and Amarillo hops.

4. DK: Hvid skum med en fin balance mellem sødme og bitterhed og klare frugttoner af tropisk frugt. En fin IPA. GB: Round white head, Hoppy sweetness and a good bitterness. Clear fruit tones of tropical fruit.

5. DK: Klar gylden fremtræden, medium skumhat, Mango aroma og lang bitter eftersmag. En fin IPA. GB: Clear golden and mid size head. Mango Aroma, medieum sweet and long bitter finish. A nice IPA.

6. DK: Klassisk pale fra Gotlands brygggeri. Svag skumhat, Blomstersmag og medium bitterhed. GB: Hazy color, low foam, flower and medium bitterness. Decent Pale Ale.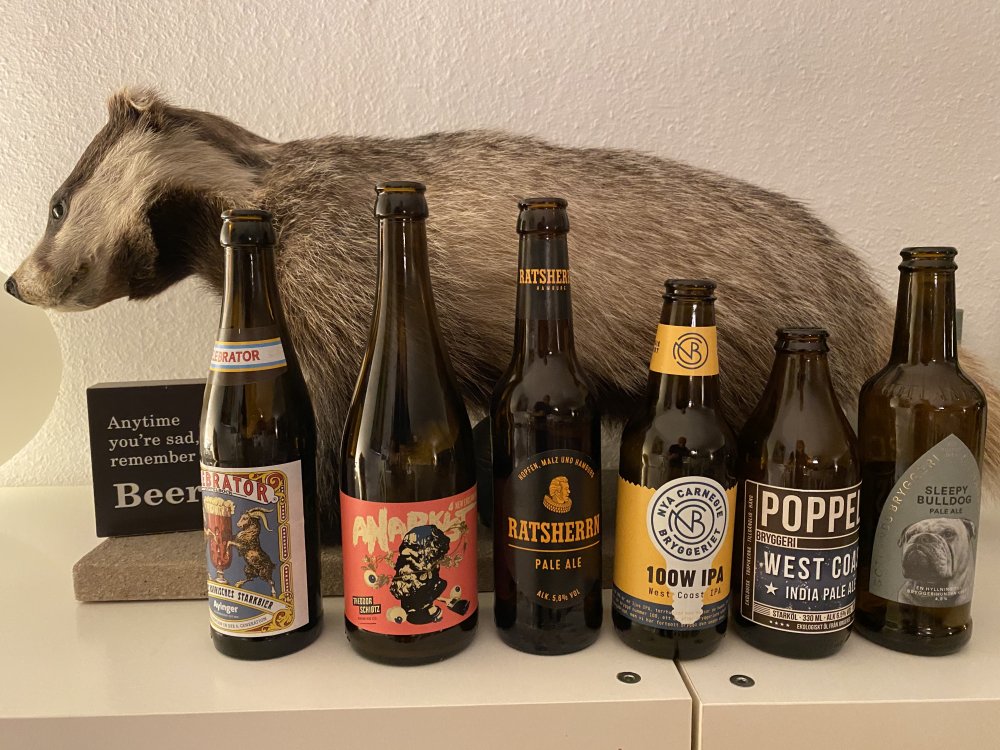 Hyg jer m. det gode øl og kig snart forbi igen...Hilsen The Pres og alle hans grævlinge